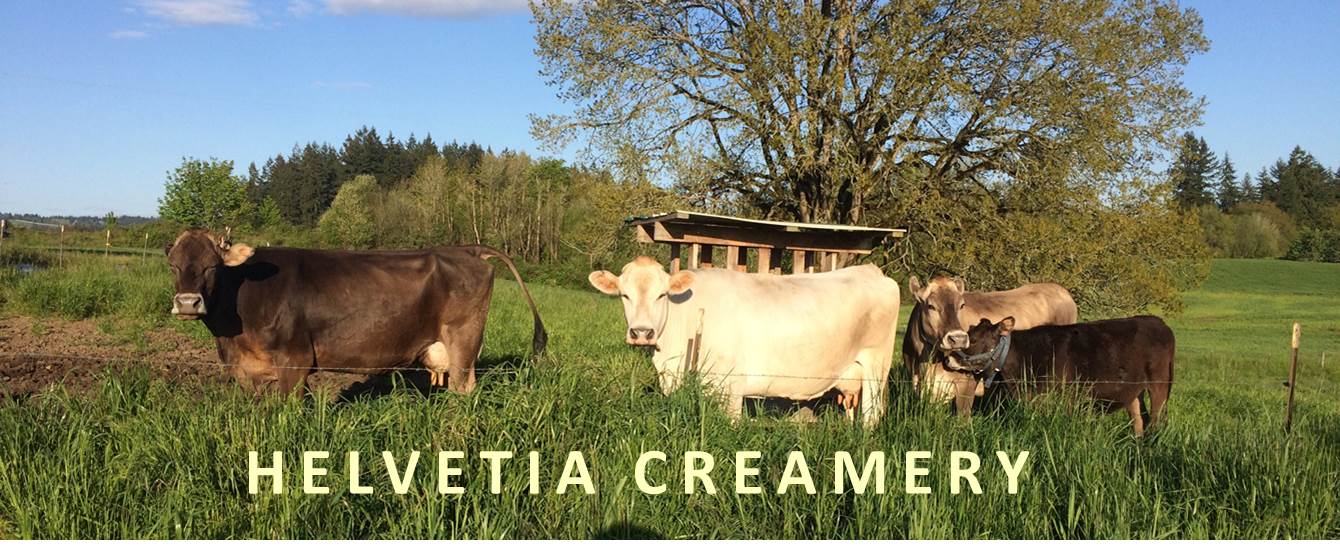 ---
About Helvetia Creamery
The Grossen family emigrated from Switzerland in the late 1800s and settled in the Swiss community of Helvetia, Oregon. they brought with them their tradition of making Swiss Alpine Cheese "Bergkase" from the brown Swiss cows they milked.
Our family is now the 6th generation to farm the land and to raise Brown Swiss cows. On our century farm we carry on the tradition of producing the same style Alpine cheeses that Dave's great-grandfather made in Helvetia over 100 years ago.
Cheesemaking Philosophy: "Cheesemaking is the sum of satisfying work, from tending our pastures and growing our hay, to caring for our cows to make the milk for producing wonderful cheese. It is a reminder of the past traditions and the gratification of handing down the love of hands on work to my children" Dave Grossen
Season - Year Round
Cheese Products:
Helvetia Bergkase
Apfelheller (Gruyere Style)
Both cheeses types are Hard washed rind Swiss Alpine cheeses, made from raw milk from our Brown Swiss cows.
How to Buy:
Helvetia Creamery sells their cheeses through Schoch Dairy Farm. Map directions will be to Schoch Farm Store. Visitors to our Helvetia Creamery farm are limited to appointment only - please call.
Drive to the rear of the Schoch Dairy Farm where our cheese, their fresh milk and other products can be found.
CASH only at store. No credit cards accepted
How to be in Contact
Phone: 503-647-9821
Email: helvetiacreamery@helvetia.us